Ankit Baiyanpuria Workout Routine and Diet Plan
Ankit Baiyanpuria, a renowned Indian fitness influencer, gained fame for promoting traditional Indian exercise methods on his social media platforms. In the year 2023, he signed up for the 75 Hard Challenge and gained immense fame for his unique approach. In this article, we will learn all about his diet plan and fitness routine that he follows in general and during his popular attempt at the 75 Hard Challenge.
Ankit Baiyanpuria's Body Statistics
Ankit Baiyanpuria Workout Routine
He began attending Akhara during his 9th-grade studies and made up his mind to pursue a career in wrestling after coming across a wrestler from his village, Krishan, who won a medal in the 2008 Junior Asia Tournament. His primary focus is on promoting traditional wrestling workouts, such as sapate (Hindu wrestling burpees), rope climbing, and running.
View this post on Instagram
Ankit Baiyanpuria has a special place in his heart for wrestling workouts, with a particular focus on explosive movements like Sapate. He advocates for traditional fitness routines that enhance stamina, endurance, and overall strength, as opposed to bodybuilding exercises solely targeting muscle growth. In addition, he incorporates unconventional "desi" workout equipment such as lifting tires, wood, and gas cylinders into his training regimen. He does not believe in giving excuses for not working out and says that the person who wishes to work out can work out anywhere, at any given time, without the need for gyms. Here's a glimpse of how he works out in the open fields using traditional methods:
He also tries to hit the gym whenever itis possible. Ankit likes to lift heavy weights while he is in the gym. He adds pictures and videos of himself lifting heavy on his social media. He can bench press 200 kg and squat 220 kg. Furthermore, his highest recorded deadlift stands at an impressive 240 kg.
For his cardio workouts, he runs about 7-10 km every single day on the ground instead of on tracks which makes his runs even more challenging. This works on his stamina too and keeps him fast and agile.
To increase his intensity, he ties huge tires on his back and then runs.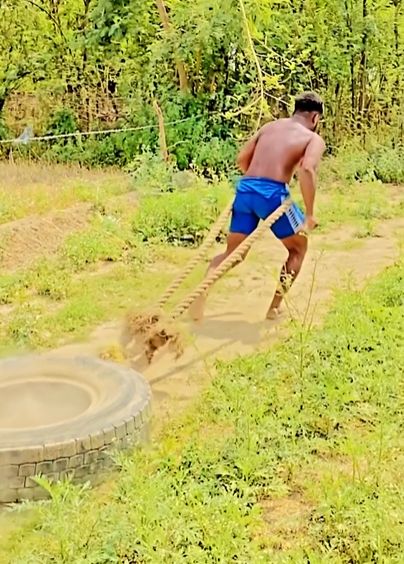 For his upper body strength, he likes to practice boxing too.
The fitness enthusiast also likes to swim in the pool with his friends. It is a great form of relaxation for him while also working out on his endurance.
Ankit also fights in a traditional Akhada (an Indian form of wrestling.)
View this post on Instagram
He also likes to target his smaller muscles like neck and wrists so that he cannot only avoid injuries but it could also help him gain more strength and support bigger muscles.
View this post on Instagram
View this post on Instagram
To recover from his workouts, Ankit does cold water baths at least once a week. This helps his muscles to relax after a week of heavy lifting and strength training. This also helps in avoiding injuries and increases the flow of blood.
Ankit Baiyanpuria's transformation video :
View this post on Instagram
For Ankit, it is mandatory to cool down after his workouts. He likes to perform various stretching activities after his main workout to maintain agility and suppleness in his muscles. He uses similar workouts to warm up for his workouts.
View this post on Instagram
75 Hard Challenge
Ankit made the decision to embark on the 75 Hard Challenge as a means to shed excess weight. After initially trying out the challenge for a few days, he was impressed by the remarkable improvements in both his appearance and well-being. Encouraged by his own progress, he resolved to officially undertake the challenge and documented his journey with the intent of inspiring others. On June 27, 2023, Ankit started the 75 Hard Challenge, a rigorous regimen created by the American entrepreneur and author, Andy Frisella, in 2020. This challenge includes five daily tasks, including taking a progress selfie, sticking to a diet free from alcohol and cheat meals, consuming one gallon (equivalent to 4 liters) of water, reading 10 pages from a non-fiction book (typically in the self-help genre), and completing two 45-minute workout sessions, with at least one being conducted outdoors, regardless of weather conditions. Notably, failure to complete any one of these tasks requires you to restart the challenge from Day 1. It is estimated that merely 1% of those who attempt this challenge ultimately manage to successfully complete it. Ankit said that his primary motivation for undertaking the 75 Hard Challenge was to increase his mental strength. According to him, the most challenging part of the challenge was abstaining from sugar, something that is a staple within his community.
Ankit Baiyanpuria Diet Plan
To kickstart his day, he begins with a healthy mix of dried fruits. This mixture typically includes 2 to 4 figs (anjeer), 10 to 15 foxnuts (makhana), 10 to 12 cashews, and 4 walnuts. Occasionally, he adds this with either an apple or a banana, depending on whichever is available.
View this post on Instagram
He follows a vegetarian diet that includes dairy products, almonds, and ghee (clarified butter). As part of his post-workout recovery routine, he frequently drinks Badam Ragda, a drink that he makes by pressing almonds. For this drink, he selects specific almond varieties, such as sonagiri and gurbandi giri, and combines them with watermelon seeds, fennel, black pepper, poppy seeds (khas-khas), and rose petals. While he used to include sweeteners in the past, he opted for an unsweetened version when undertaking the challenging 75 Hard program.
Throughout the day, his typical meals consist of approximately 6 to 8 chapatis, along with 2 bowls of vegetables and 2 portions of salad. Following his evening workout, he adds one scoop of whey protein into his routine for an extra boost of protein.
View this post on Instagram
He includes 1 kg of yogurt in his daily diet, along with 1 kg of milk after dinner. Additionally, he indulges in Kachri ki Chutney, his favorite condiment, with each meal. In contrast to the prevalent practice among bodybuilders and wrestlers, Ankit steers clear of cheat meals or cheat days. In an interview, he disclosed that whenever he wants to eat something indulgent, he opts for kheer or churma, both of which have an abundance of dry fruits, ghee, and milk. Churma is one of his favorite desserts, and he even makes it himself.
View this post on Instagram
Ankit Baiyanpuria Supplements
While does not take any supplements and completes his protein intake by drinking a lot of milk and milk products, he is a brand ambassador for various supplement brands and co-owns a supplement shop in his village. He has whey protein occasionally after his evening workouts.
View this post on Instagram
He also takes post-workout meals which he substitutes for market-bought supplements. He believes in completing his nutrition intake via a proper diet.
View this post on Instagram