Randy Orton Workout Routine & Diet Plan
Born on April 1, 1980 Randal Keith "Randy" Orton is a hugely well known professional American WWE wrestler. He is presently in his fourth term as World Heavyweight Champion and his eighth term as WWE Champion. Randy Orton is by far the youngest World Heavyweight Champion in WWE history.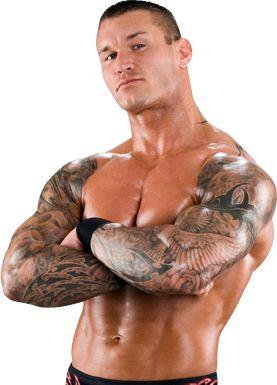 Apart from his awesome wrestling skills Randy is very famous for his well sculpted and well-built physique. He follows a very exhaustive diet and workout regime to maintain his body. So let's have a look at the champion Randy Orton's workout routine and diet plan.
Physical Stats
Orton Height: 6' 5"
Randy Orton Weight: 235 lbs
Randy Orton Diet Plan
Randy believes that just following a workout is not sufficient; his diet plays a great role in keeping him agile and fit for all his matches. Randy follows a high in protein and low in carbohydrates diet.
Randy follows a clever diet and classifies different food groups to improve metabolism
He maintains a 250 gm of protein each day and take protein bars and shakes to complete his protein intake
The WWE champ generally avoids carbs after 8.00pm and takes carbs in form of pancakes, potatoes and oatmeal.
He loves sushi and takes sushi at least thrice a week
His diet also includes fish, eggs, chicken and cottage cheese
Randy Orton Workout Routine
Randy loves working out in gym and spends around two hour a day and 5 days a week to stay in perfect shape. He keeps changing his exercises every 3 weeks so the muscles don't get flattened. Randy Orton's typical weekly workout routine is given below-
Monday: Shoulders
3 sets of front laterals of 15 reps
3 sets of rear laterals of 15 reps
3 sets of side laterals of 15 reps
3 sets of Arnold presses of 8-15 reps
3 sets of upright rows of 8-15 reps
Tuesday: Chest
100 push ups
3 sets of incline barbell bench presses of 20 reps
4 sets of DB bench presses of 5-6 reps
4 sets of flat bench presses of 10-12 reps
3 sets of cable crossovers of 12-15 reps
Wednesday: Triceps and Biceps
3 sets of push downs of 20 reps
3 sets of closed grip push downs of 20 reps
3 sets of French curls of 12 reps
3 sets of overhead triceps extensions of 15 reps
3 sets of alternating DB curls of 8-10 reps
3 sets of alternating DB hammer curls of 5 reps
3 sets of cable curls of 8 reps
3 sets of barbell curls of 88 reps
Thursday: Back
3 sets of pull downs of 20 reps
1 set of pull ups until failure
3 sets of lower back extensions of 15 reps
3 sets of seated cable rows of 12 reps
3 sets of T-Bar rows of 12 reps
3 sets of bent over rows of 20 reps
Friday: Legs
4 sets of thigh extensions of 15-20 reps
100 free squats
4 sets of straight leg deadlifts of 10 reps
10 sets of calf raises of 10-15 reps
10 sets of lunges of 10-15 reps
Saturday and Sunday
Rest
Randy Orton Workout Tips
Follow a low carbs, high protein diet
Keep changing your workout plan to prevent muscles flattening